Rörstrand
..was mentioned as early as the 13th century when Magnus Ladulås donated property to the Clara Monastery. In 1527 the area under Gustavus Vasa was returned to the crown. The area was named "Rörstrand".
After an "Association contract between all parties involved in the Swedish porcelain factory, which will be established in the manner of Delft in Rörstrand and surroundings" was signed in 1726, a porcelain factory was built in the castle Rörstrand. The factory was privileged to produce real porcelain, but pottery was the only one produced until the 1770s. High production costs, a small market and strong competition from imported Chinese porcelain prevented Rörstrand from competing.
After competitor Marieberg was taken over in 1785, Rörstrand was the only large Swedish porcelain factory and in the absence of competition development and technical progress had no priority.
During the 1860s, Rörstrand porcelain was one of the largest industries in the country.
In 1900 there were around 1,100 employees , Rörstrand has a worldwide reputation and successfully participated in various art and industrial exhibitions. The expansion of the city meant that the land was needed for housing. The factory in Rörstrand was closed and demolished in 1926. After the takeover of the Gothenburg Porcelain Factory, the factory was first moved to Gothenburg and in the 1930s to Lidköping.
Rörstrand changed ownership several times between 1960-1990, but from 2001 she became part of Iittala which relocated production to Sri Lanka and Hungary due to losses. The plant in Lidköping closed on December 30th 2005, ending an almost 280-year-old Swedish industrial history. In 2007, Iittala including the Rörstrand was purchased by Fiskars. Decor OstIndia is one of the popular designs of Rörstrand that has been produced since 1932.
Decor OstIndia is one of the most popular designs of Rörstrand and has been produced since 1932.
CHINA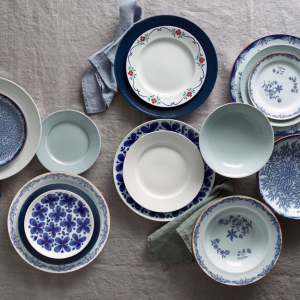 Series
---
Click pictures to see bigger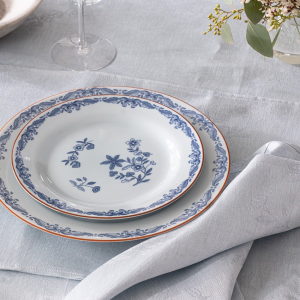 Fleur de Lys is een officieel verkooppunt voor dit merk en voert de volledige collectie. Neem contact op met ons voor informatie over modellen die niet [nog] genoemd worden.w=Series merk_id=12]